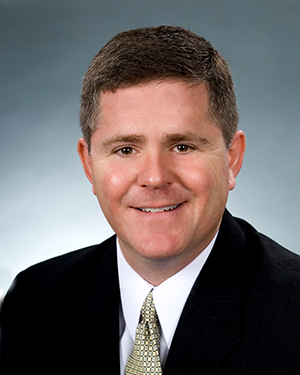 Dates of Service: July 2019 – June 2025

Employee Member

Jim Hughes has spent his career demonstrating his passion for public service.

He was appointed by Governor Mike DeWine to be the chairman and employee member of the Ohio Industrial Commission for a term that began on July 1, 2019.

Jim brings decades of legal knowledge and public policy experience to his role as chairman. He began his career as a bailiff and court constable in the Franklin County Court of Common Pleas. He later served as assistant prosecutor in the City of Columbus Prosecutor's Office and then as assistant prosecutor for Franklin County. He also worked previously as an attorney and partner at the Isaac Wiles law firm in Columbus.

In 2000, he was appointed to the Ohio House of Representatives and was later elected to the Ohio House of Representatives in 2000, 2002, 2004, 2006, and 2016; and the Ohio Senate in 2008 and 2012. During his 18 years in the Ohio General Assembly, Jim supported legislation that toughened criminal penalties, protected children, reformed taxes, streamlined regulations, and incentivized businesses to settle in Ohio. He also served on many legislative committees including Civil Justice, Insurance and Financial Institutions, Energy and Public Utilities, Transportation and Public Safety, and Criminal Justice.

Jim has received numerous accolades from several groups over the course of his career. He has been named Legislator of the Year by the FOP Capitol City Lodge No. 9, the Ohio Fire Chief's Association, the Ohio Nurses Association, the Ohio Association of Professional Firefighters and the AMVETS Department of Ohio. In addition, he has received the Ohio Association for Justice Workers Compensation Outstanding Service Award, and the Watchdog of the Treasury Award, among others.

Jim earned his Juris Doctorate at Capital University Law School after completing his bachelor's degree in business administration at The Ohio State University. He and his wife Susan live in Upper Arlington, and have a daughter, Kaela.